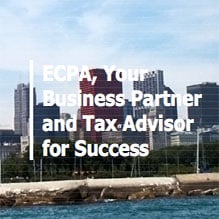 Enterprise CPAs, Ltd.
http://www.ecommercecpa.com/page26.php
David Liu David.Liu@EnterpriseCPA.com
209 West 23rd Street, Suite 2
Chicago, Illinois 60616
Enterprise CPAs, Ltd.
Enterprise CPAs, Ltd. (ECPA), is a Chicago based leading public accounting firms specialized in providing tax solutions for individuals and businesses who has multi-states or multi-national source incomes, and business activities between USA and China. Enterprise CPAs provides tax services for individuals and companies in fifty states as well as in China. Enterprise CPAs, Ltd, is a leading company to conduct punlic companies audit services according to PCAOB's audit standard, particularly for start-up or enterprise development stage companies listed in OTCBB. Enterprise CPAs, Ltd, provides full scope of accounting & bookkeeping services based on GAAP of United States of America, we expericed in training of Chinese companies to convert the financial statements into USA's financials. Our clients list includes public companies listed in OTCBB/NASDAQ of United States of America, multinational companies, and small-mid sized private companies. We are a best partner for all sizes of our clients, we assist our clients grow from start-up to multinational companies. At ECPA, client's satisfaction motivates us to provide highest quality services while maintaining the highest level of integrity.